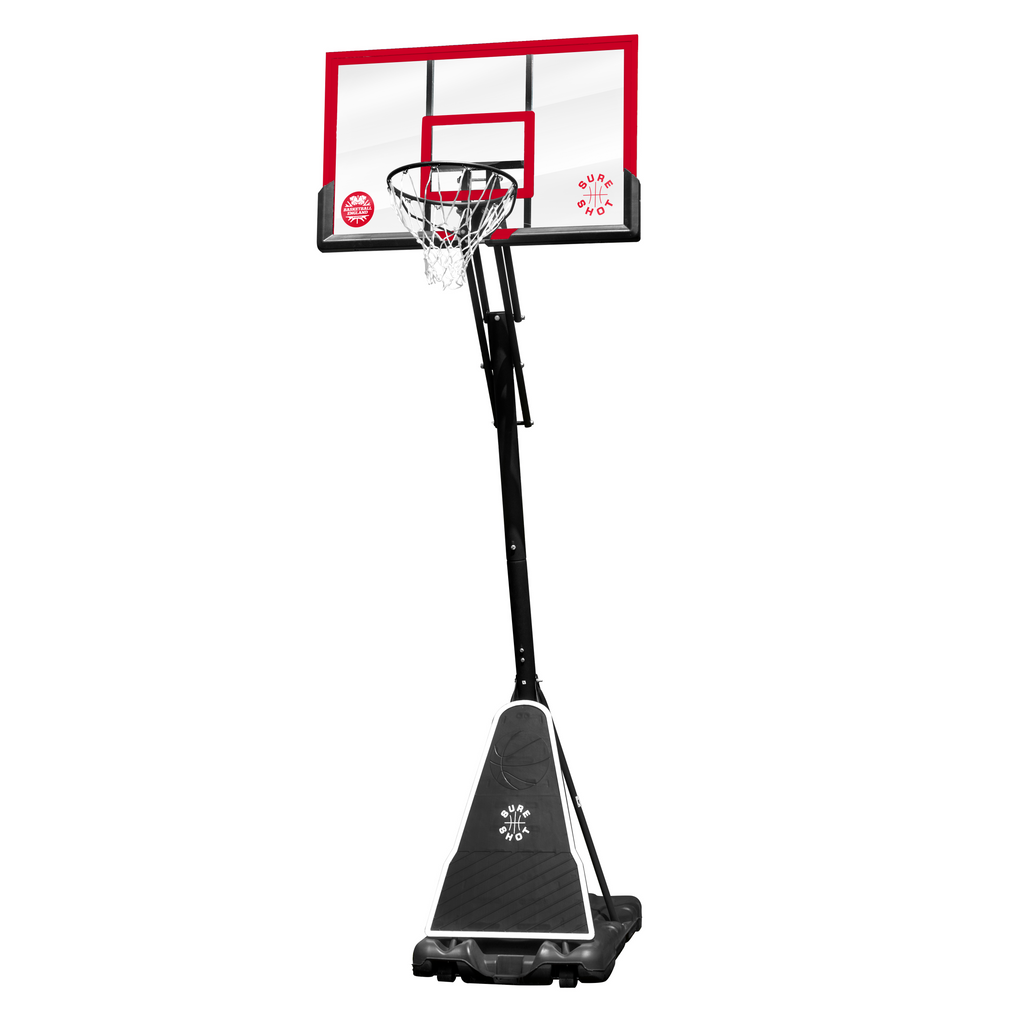 Sure Shot 63522 Projust Portable Unit
---
Ideal for youth players and adults alike, the Projust portable unit includes a handle adjustment system that allows the height of the backboard and ring to be adjusted with the simple turn of a handle. This system allows the height to be set anywhere between 7' 5" for younger players to the official height of 10' for adults (2.3m to 3.05m). The adjustable rear pole also includes markings to help identify what height the unit is set at.
The Projust includes a superior glass imitation backboard measuring 130cm x 80cm with a red trim and shooters square. For added safety, the unit includes backboard padding on the base of the board. The unit includes an 18" (45cm) steel ring with springs included beneath the ring plate. A white 12 loop nylon net is included as standard. The backboard and ring are set on a sturdy 3 piece steel pole, designed to angle away from the base for play under the backboard. The unit has a moulded base the requires water or sand for stability when in use and has two wheels attached for easy movement. The base also includes a separate cover that is placed between the pole and base for added player protection during play.
The Projust is approved by Basketball England and is therefore complete with the Basketball England logo on the backboard.
Features:
Backboard Material: superior glass imitation backboard
Backboard Size: 130cm x 80cm
Backboard Colour: clear with red shooters square
Ring: 18" (45cm) steel ring
Height: 7' 5" to 10' (2.3m to 3.05m)
Adjustment: handle system
Pole: 3 piece steel
Padding: no
Base: blow moulded HDPE to be filled with 200kg of sand or 150 litres of water
Wheels: yes
Weight 46kg
Product Code 63522
Barcode 5060097417551
Our flat rate standard shipping charge is £5.99 on orders up to the value of £75 to Inland UK addresses.
Orders over £75 and all Sure Shot units are shipped free of charge to Inland UK addresses.
For the Sure Shot specialist units, a total cost will be provided when a quote is requested.
Most orders are shipped within 3-5 business days, via Royal Mail or courier. Orders are not shipped on weekends or bank holidays, and will therefore be processed the following business day.
Please allow 2-3 additional business days for delivery of the Sure Shot units. For digital scoreboards, shot clocks and alternating possession arrows, please allow a further 1-2 weeks for delivery.
For event tickets, you will receive a downloadable e-ticket to your email address. Keep this handy as the QR code will need to be scanned on arrival at the event.