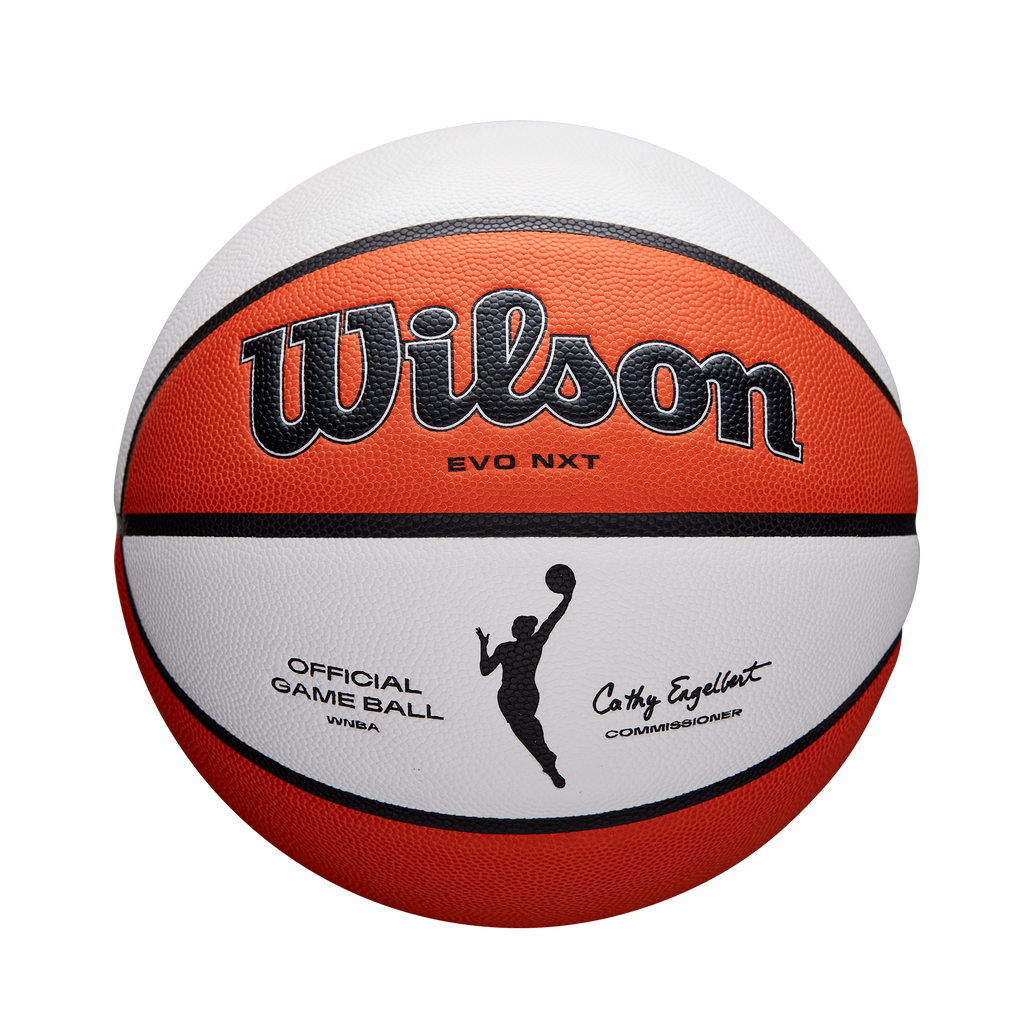 Wilson WNBA Official Game Basketball
---
Fire & White unite with the Wilson WNBA Official Game Ball. Made with Evo NXT technology this ball features Extended Range Tech, enhanced grip, soft feel, a moisture wicking surface and laid-in-channels you can feel the difference with the first touch. The micro-touch Fire & White cover creates a double-layered grip delivering an authentic level feel. 
Features:
MICRO-TOUCH COVER: Micro pebbling paired with standard pebbled channels wicks moisture and sweat from surface for superior grip and control.
EXTENDED RANGE TECH: Optimally balanced, super soft core generates more spin with less effort extending a shooters range and provides a softer touch at the rim
PEBBLED CHANNELS: Composite pebbled channels create a consistent surface texture displacing moisture and enhance grip for unparalleled control
WNBA OFFICIAL: Wilson is the official basketball of the WNBA. This ball features official WNBA branding coupled with the iconic Wilson script
Size 7 - for male players aged 14+
Size 6 - for female players aged 14+ and for male players aged 12-14
Size 5 - for all Key Stage 2 or 7-11 year olds and for female players aged 12-14
Our flat rate standard shipping charge is £5.99 on orders up to the value of £75 to Inland UK addresses.
Orders over £75 and all Sure Shot units are shipped free of charge to Inland UK addresses.
For the Sure Shot specialist units, a total cost will be provided when a quote is requested.
Most orders are shipped within 3-5 business days, via Royal Mail or courier. Orders are not shipped on weekends or bank holidays, and will therefore be processed the following business day.
Please allow 2-3 additional business days for delivery of the Sure Shot units. For digital scoreboards, shot clocks and alternating possession arrows, please allow a further 1-2 weeks for delivery.
For event tickets, you will receive a downloadable e-ticket to your email address. Keep this handy as the QR code will need to be scanned on arrival at the event.